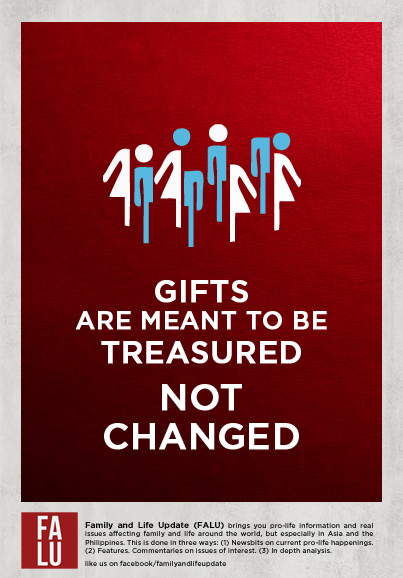 There is a rise of acceptance of "transgender" mainly because it has found an idol in Bruce Jenner. He is changing himself into Caitlyn Jenner and many people in the world have embraced it. Even in the Philippines there is a push as seen by the new GMA show Destiny Rose. But what is our stand? Here are three excerpts which we should all read to understand better:
The Pope's take on transgender issues? Accept the body God gave you

Transgender Catholics Can't Be Godparents

Nigeria: Our Stand On Marriage, family and human society
.- Pope Francis' new encyclical on the environment calls for men and women to acknowledge their bodies as a gift from God which should not be manipulated.
"The acceptance of our bodies as God's gift is vital for welcoming and accepting the entire world as a gift from the Father and our common home," the Pope wrote, "whereas thinking that we enjoy absolute power over our own bodies turns, often subtly, into thinking that we enjoy absolute power over creation."
The Pope's encyclical "Laudato Si," meaning "Praise be to You," was published Thursday, June 18. Its name is taken from St. Francis of Assisi's medieval Italian prayer "Canticle of the Sun," which praises God through elements of creation like Brother Sun, Sister Moon, and "our sister Mother Earth."
In early 2014, the Vatican announced the Pope's plans to write on the theme of "human ecology" – a phrase that was previously used by Pope emeritus Benedict XVI.
While the 184-page encyclical wades into controversial topics such as climate change, it also aggressively argues that it is not possible to effectively care for the environment without first working to defend human life and dignity.
The Pope wrote that human ecology implies the profound reality of "the relationship between human life and the moral law, which is inscribed in our nature and is necessary for the creation of a more dignified environment."
Pope Francis quoted from his predecessor, Benedict XVI, saying that there is an "ecology of man" because "man too has a nature that he must respect and that he cannot manipulate at will."
Benedict's words came from his Sept. 22, 2011 address to the German parliament on the foundations of law. He had discussed the importance of the ecological movement for its realization that "the earth has a dignity of its own and that we must follow its directives." Man, he added, "does not create himself. He is intellect and will, but he is also nature, and his will is rightly ordered if he respects his nature, listens to it and accepts himself for who he is, as one who did not create himself."
After quoting Benedict, Pope Francis said that "our body itself establishes us in a direct relationship with the environment and with other living beings," and that the acceptance of one's body helps one to accept and honor the entire world as a gift.
"Learning to accept our body, to care for it and to respect its fullest meaning, is an essential element of any genuine human ecology."
He then turned to the importance of sexual complementarity, adding that "valuing one's own body in its femininity or masculinity is necessary if I am going to be able to recognize myself in an encounter with someone who is different. In this way we can joyfully accept the specific gifts of another man or woman, the work of God the Creator, and find mutual enrichment."
Pope Francis referred to his own General Audience address of April 15, saying that "It is not a healthy attitude which would seek 'to cancel out sexual difference because it no longer knows how to confront it.'"
In that address, on the complementarity of man and woman, he had touched on the importance of the two sexes and their reciprocal needs.
He lamented that contemporary culture has introduced doubt and skepticism over sexual complementarity: "For example, I ask myself, if the so-called gender theory is not, at the same time, an expression of frustration and resignation, which seeks to cancel out sexual difference because it no longer knows how to confront it … the removal of difference in fact creates a problem, not a solution."
Pope Francis' jab at gender theory – which gives a basis for transgender identification – in his encyclical came in the context of a discussion on the "ecology of daily life," during which he also discussed integral improvement in the quality of human life; creativity in responding to one's environment; the brutality arising from poverty; urban planning; lack of housing; public transportation; and rural life.
The larger context of the Pope's words on the ecology of daily life came in his chapter on integral ecology, during which he also mentioned environmental, economic, and social ecology; cultural ecology; the common good; and inter-generational justice.
———————————————
Transgender status "reveals in a public way an attitude opposite to the moral imperative of solving the problem of sexual identity according to the truth of one's own sexuality," the Vatican said. "Therefore it is evident that this person does not possess the requirement of leading a life according to the faith and in the position of godfather and is therefore unable to be admitted to the position of godfather or godmother."
———————————————
Below is the full statement of the Catholic Bishops in Nigeria.
Our Stand On Marriage, family and human society
The Catholic Bishops Conference of Nigeria would like to once again reiterate the perspective of the Church on more recent developments concerning the sanctity and dignity of human life and the institutions of marriage and the family all across the world.  The recent rise in Lesbian Gay Bisexual Transgender activism, the popular vote in the Republic of Ireland and the Supreme Court decision in the United States of America will tend to provoke a notable and rapid shift in public opinion about the nature and meaning of marriage and family as it has been known for millennia. This, in many countries, has inevitably led to powerful legislative and judicial maneuvers to redefine marriage in order to include "same-sex marriage". We wish to state that this is a sad, unjust and lamentable situation based largely upon a distorted perception of natural law, the will of God and human nature.
Canada, Spain, France, United Kingdom, Ireland and most recently, the United States of America are some of the countries that have gone down this path. They are nations who undeniably have cultural, social and economic influence upon many African nations including Nigeria. Mozambique has not yet accepted same-sex marriage but they have struck down their legal ban on sodomy, thereby opening the door to the festering of the homosexual culture/subculture within their society. Our people daily interact with these and other nations at different levels. These countries also generate a lot of the media content consumed in our country and continent as well as much of the educational materials used in our schools.  They also give generous humanitarian aid to various establishments and projects in our country and continent. In these ways, their views, thoughts and trends are easily embedded into the heart of our society and influence many people especially the impressionable young ones.
As Catholic Bishops of Nigeria, we are grateful for these interactions and support. We are however also concerned for the influence which some of these trends could have on morality and values.  We therefore hereby express our concern with regard to the persistent and continuous propagation and globalization of the homosexual lifestyle and the effort to redefine marriage which is a distorted view of human sexuality, coming especially from the Western world.
We call on our leaders to be circumspect.  Accepting this western trend by officially endorsing homosexual unions or "same-sex marriage" will be devastating and detrimental to our nation, Nigeria as it will lead to the inevitable deconstruction of the family and the society at large with other serious but negative implications.
On our part we hereby re-emphasize that Marriage is the sacred union of one man and one woman for the begetting and care of children. It forms the core of the family which is the bedrock and foundational cell of our civilization and as such it is sanctioned by God, upheld by our culture, celebrated in our society and protected by our government.  The family deserves the protection from all civilized institutions as it predates society and is not subject to it. So our role is to promote it, protect it and preserve it at a time like this when many countries have unfortunately chosen a different path.
We call upon President Muhammadu Buhari and all our esteemed leaders, legislators and judges to shun all pressures and protect all Nigerians from the growing but dangerous influence of the Lesbian, Gay, Bisexual, Transgender propaganda.  We appeal to professionals in the domains of media, music, entertainment, teaching, medicine, marketing and business to become faithful gatekeepers by protecting the public from the infiltration of this propaganda which is often spread through various media and forums. We encourage parents to educate their children on the immutable meaning of marriage so as to strengthen them to stand fearless by the indelible truth in a rapidly changing world. We urge young people to learn and hold firmly unto sound religious and cultural values that celebrate the beauty and blessings of marriage as the lifelong union between one man and one woman.
Finally we pray that God will grant us all the courage, integrity and perseverance needed at this time to uphold the unchangeable truth about the dignity of human sexuality and the sanctity of the institution of marriage.